MoU was signed between IGNCA and CIBS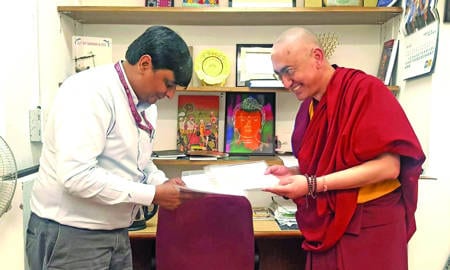 A Memorandum of Understanding (MoU) was signed between Indira Gandhi National Centre for Arts ( IGNCA) New Delhi and Central Institute of Buddhist Studies (CIBS), a Deemed to be University in New Delhi. The MOU was signed by the Director CIBS, Prof Geshe Konchok Wangdu and Head of the Department of Cultural Archives and Conservation and Associate Professor of Museology and Conservation, Achal Pandya. The collaboration was proposed by the Public Relation Officer CIBS, Dr Sonam Wangchok and painting conservation expert, Sanjay Dhar in earlier meetings. A meeting was also held with Dr Sachchidanand Josh, Member Secretary, IGNCA to discuss varied capacities of the two institutions. Both the institutions will explore areas of mutual interest and identify specific objectives, that will promote common objectives through sharing of human resources and physical and financial capacities. By highlighting literary works of Rahul Sanskrityayan, Dr Sachchidanand Josh, Member Secretary IGNCA has also proposed for collaboration in literary works and research. 

A proposed programme that will be developed in collaboration shall include workshop on Thangka painting and conservation at CIBS Leh, workshop on manuscripts conservation, developing a laboratory and documentation centre at CIBS Ladakh, developing stores in monasteries for preventive conservation, exchange programme for students and resource persons, literary works and publications. CIBS will also collaborate with IGNCA on exhibition showcasing the achievements of the Department of Traditional Scroll/Fresco Painting, Department of Traditional Sculpture and Department of Wood Block Carving to highlight cultural achievements of CIBS Leh. 
In order to preserve large number of significant thangka paintings and manuscripts with monasteries, a capacity building programme piloted by the Conservation Department of IGNCA will also be developed. This programme will be located at CIBS campus in Leh, where a specialised laboratory and documentation centre for preservation of Buddhist paintings and manuscripts will be developed of international standards.
IGNCA and CIBS are institutions under the Ministry of Culture (Govt of India), sharing common goals including promotion of art, culture and rich heritage of the country. It is therefore, with this aim, both the institutions have agreed to collaborate and compliment their capacities for preservation of rich and diverse heritage in Himalayan region.